Search Map or Mt.
Category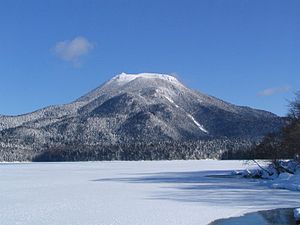 Elevation

1370.5m

Location

Hokkaido

Coordinates

North Latitude43°27'14", East Longitude144°9'40.3"
Source:Wikipedia
Mount Oakan (雄阿寒岳 Oakan-dake?) is a shield volcano located in Akan National Park in Hokkaidō, Japan.

Geography and geology
Mount Oakan sits in the Akan caldera northeast of Lake Akan. The volcano rises some 900 metres (3,000 ft) above the surrounding terrain. The top of the volcano is 1,370 metres (4,490 ft) above sea level. The volcanic cone is some 8 kilometres (5.0 mi) in diameter. There are three explosion craters at the summit. At Kitanakahara (北中腹?) at about 800 metres (2,600 ft), there is a fumarole. The volcano is made mostly from non-alkalai mafic volcanic rock. The main rock type is andesite and dacite.
●

Area/Oakandake, Akanko

●

Scale/GSI 1:50000

●

Size/3MB

●

Release Date/2012.09.30

●

Update:2016.01.06

●

Version:2.0