Search Map or Mt.
Category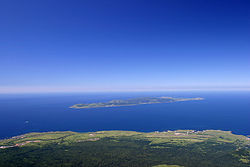 Elevation

490m

Location

Hokkaido

Coordinates

45°22′21″N 141°00′57″E
Source:Wikipedia
Rebun Island is an island in the Sea of Japan off the northwestern tip of Hokkaidō, Japan. The island sits 50 kilometres (31 mi) off the coast of Hokkaidō. Rebun stretches 29 kilometres (18 mi) from north to south and 8 kilometres (5.0 mi) from east to west. The island covers approximately 80 square kilometres (31 sq mi). Rebun Island is located 10 kilometres (6.2 mi) northwest of Rishiri Island, and the two islands are separated by the Rebun Channel.

Rebun Island is known for its alpine flowers and the 8-Hour Hiking Course which runs from one end of the island to the other, north to south. The hiking course can be broken into two sections, known as the 4-Hour Hiking Courses. Rebun Island is home to a chashi, or hilltop fortifications of the Ainu people. The highest point on the island is Mount Rebun (490 metres (1,610 ft)). The island is part of the Rishiri-Rebun-Sarobetsu National Park.
●

Area/Rebunto, Rebundake

●

Scale/GSI

●

Size/8MB

●

Release Date/2012.09.30

●

Update:2016.06.27

●

Version:3.0